Dr. Lucinda Canty, Dr. Raeann Leblanc. Frankie Manning, Sharon Latimer-Mosley and Dr. Gayle Robinson, members of the Reckoning team, are contributors to a chapter in the newly released Campus Compact book, "Anti-racist Community Engagement: Principles and Practices".
Campus Compact a national not for profit coalition of colleges and universities, in collaboration with Stylus Publishing, LLC, describes the book as "a thought-provoking publication that focuses on the community-engaged traditions that BIPOC academics and community members have created through more than a century of collaboration across university and community".
The Reckoning Team chapter contribution, "Our Voices: Storytelling and Listening in Anti-racism Educational Practices",  discusses the BILPOC nurse centered approach, process and principles used in the production of the Reckoning with Racism in Nursing Documentary Project.
"Anti-racist Community Engagement, revolves around a set of anti-racist principles developed through shared work and dialogue with colleagues from various regions across the country",  Campus Compact Stylus Publication notes in their August 2023 release of the book.
"Anti-racist Community Engagement: Principles and Practices" showcases how students, community members, staff, and faculty have put these principles into practice, both within and beyond college and university campuses in ways that center anti-racist values and attempt to pivot away from the traditional, higher education-centric, and "white savior" ways of doing community engagement teaching, research, and practice."
"The book is also accompanied by an open access digital companion in which authors share materials that will help shed further light on their compelling practices, including syllabi, agendas, handouts, worksheets, and additional resources".
National release of the book  is scheduled for September 21, 2023, 3pm ET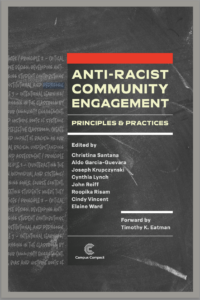 Publisher: Campus Compact