3:00 – 5:00 PM PST/6:00 pm – 8:00 pm EST
ATTENTION ALL NURSES WHO PARTICIPATED IN THE
RNS RECKONING WITH RACISM IN NURSING DOCUMENTARY
WE WANT TO HEAR FROM YOU!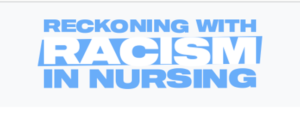 Register here: REGISTER
We are conducting focus groups on the experiences of nurses who were interviewed for the RNs Reckoning with Racism in Nursing documentary. We want to know about your experience participating in this project. We also want your voice to guide how the project moves forward and what are steps are needed for nursing to become a diverse, inclusive, anti-racist and equitable profession. The information will be used to develop discussion guides and nursing curriculum content to accompany the documentaries.
You are eligible to participate if you:
Are 18 years or older
Are a nurse or nursing student
Participated in Participated with RNs Reckoning with Racism Project
WHAT WILL YOU HAVE TO DO? You will participate in a virtual focus group to tell us about your experience. (The focus group will take no more than 2 hours of your time).
This project is funded by the Robert Wood Johnson Foundation.
This research study was approved by the UMass IRB on 12/27/2022, Protocol #4016.